Hip Replacement Surgery Types, Risk Factors, Treatment, Diagnosis, Medications, Doctors & Specialists
Hip replacement (hip arthroplasty) is a highly successful surgical procedure to replace a  damaged hip joint. This surgery involves the replacement of the hip joint by an artificial prosthetic implant or hip prosthesis. This kind of surgery is an option for treating hip fractures or pain due to arthritis. The procedure takes about 2-3 hours to complete. Your orthopedic specialist surgeon at Yashoda Hospital will remove the damaged cartilage and bone and position a new artificial metallic or ceramic prosthesis in order to restore the alignment and function of your hip. 
What are the different types of hip replacement surgery?
Based on the damaged part or intensity of pain in your hip, you could opt for any one of these three major types of hip replacements: 
Total Hip Replacement  
Partial Hip Replacement  
Hip resurfacing 
Total Hip Replacement surgery is the most common among the three types. This surgery involves complete removal of worn-out parts of your hip and replacement with a durable metallic, ceramic, or plastic prosthesis. 
Partial hip replacement or hemiarthroplasty is performed to replace only one side of the hip joint. This kind of procedure is usually suitable for older patients who have got their hip fractured. 
Hip resurfacing is generally done in younger patients who can recover easily. 
What are the risk factors of hip replacement surgery?
Although very low, some complications may occur in 1-2% of patients. Some chronic illnesses might increase the potential for such complications. 
The risk factors include the following: 
Infection may occur either outside the wound or around the prosthesis. It may happen after days, weeks or even after years of surgery.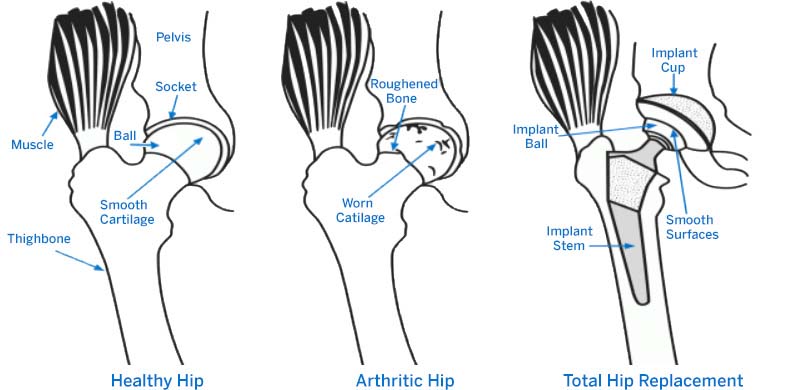 Blood clotting is yet another complication that may happen after the surgery. Your surgeon at  Yashoda Hospital will outline a prevention program to recover from it. 
Leg-length Inequality: You may feel that your one leg is longer than the other. This is usually because of the implant's alignment. 
Dislocation: This may happen when the ball of the joint comes out of the socket. Patients are at risk of such complications during the first few months of recovery after surgery. Loosening and implant wear: As time passes, the prosthesis might loosen due to day-to-day activities or because of osteolysis. You may need to undergo a second surgery if the pain is intense. 
Need for revision or additional hip surgery: In some rare cases the patients, if they still have problems in hip movement and have pain, will need to undergo revision or additional hip surgery. 
Nerve injury: There are chances that you may suffer from a nerve injury that causes weakness,  numbness, or both.
How do you know if you need a hip replacement?
You may choose to undergo a hip replacement surgery if:  
You have persistent or recurring pain in your hip over

time. 

You have hip aches during bending, sitting, or other

exercises.  

You find it hard to perform hip movements. 

You can't get rid of the pain even when you're on medication.  

Your hip stiffens often. 

You can't easily walk or climb stairs.  

You find it hard to sit in a chair etc.  
Diagnostic Procedures 
X-ray: X-ray or x-radiation is a specific type of radiation of high-energy electromagnetic waves that penetrates the body and helps in the imaging of bones inside. The images obtained from x-ray exposure are usually black and white and show the body in black and white shades because different tissues in your body absorb different amounts of radiation. Generally, x-rays have a  wavelength ranging from 10 picometers to 10 nanometers. 
X-rays are used to: 
Examine a part of your body where you have pain or discomfort.  

Keep track of progression of a diagnosed disease. 

Check how well a prescribed treatment is performing. 

The conditions that may need x-ray imaging include bone cancer, blocked blood vessels, lung  complications, fractures, arthritis, osteoporosis, tooth decay, etc. 
MRI: Magnetic Resonance Imaging is a technique that uses radio waves, magnets, and a  computer to create a detailed picture of the anatomy and physiological processes of the body. It helps in the diagnosis of a disease or an injury and in monitoring how well you're doing with treatment. 
MRI can be used to detect stroke, eye problems, brain injury, bone infections, damage to joints,  problems in disks of the spine, etc. 
Treatment, Diagnosis, Medications
Your orthopedic surgeon will perform certain examinations to diagnose your condition. The  common inquiries and tests may include: 
X-ray analysis 

Enquiring about your pain 

Any past injuries on or around the affected area 

Physical tests 

MRIs 

Any medications that you are on 
You will be prescribed appropriate medication for treatment based on the results of the diagnosis performed by your surgeon. 
The possible treatment may include: 
Physical therapy

Medicines to prevent blood clotting 

Medicines to decrease the chances of having a Deep Vein Thrombosis (DVT).

Advice to wear special stockings and do ankle pumps 2 to 3 days post-surgery.

Patient-controlled analgesia (PCA) that allows you to control your own pain medication. 
You should keep track of your progress post-surgery and immediately call or see your surgeon if  you experience any of the following: 
Redness around the wound 

Pain and/or swelling 

Drainage at the incision 
Specialists at Yashoda Hospital & Research Centre, Nehru Nagar, Ghaziabad 
Dr. Vipin Tyagi, who has earned his M.B.B.S. and M.S. in Orthopedics from King George's  Medical College in 1983, is an experienced surgeon at Yashoda Hospital, Ghaziabad. He served as Registrar in the Department of Orthopedics at the renowned Sir Ganga Ram Hospital,  New Delhi from 1984 to 1985. After that, he trained himself rigorously abroad under the supervision of acclaimed orthopedic surgeons such as Dr. Ranawat and Prof. Dr. Tria in the  USA, Canada, Germany, Switzerland, South Korea, and Libya. 
Dr. Tyagi joined Yashoda Hospital & Research Centre as a Senior Consultant and Head of the  Orthopedic Trauma & Joint Replacement Department in 1992. He has performed over 20,000  surgeries successfully as of now.
Dr. Ajay Panwar, Senior Consultant and Surgeon at Yashoda Hospital & Research Centre,  specializes in orthopedic trauma, hip & knee arthroplasty, sports injuries, and arthroscopy. He holds expertise in hip and knee replacement surgery. 
Dr. Panwar holds the reputation of being one of the most proficient orthopedic doctors in  Ghaziabad. Along with being well equipped with the expert level knowledge of M.S. and M.Ch.  in Orthopedics, he owns fellowships in joint replacement and spine surgery and has experience of over 30 years of in this field. 
Dr. Rahul Kakran is one of the Best Orthopedic Doctors in Ghaziabad. He has been working for over 11 years in the field of orthopedics and holds experience in treating fractures,  dislocated joints, and spinal joints. As an experienced expert, Dr. Kakran performs minimally invasive spine surgeries such as percutaneous pedicle screw fixation, TLIF, balloon kyphoplasty, and micro endoscopic discectomy with outstanding results. As on date, he has the honor of performing over 500 successful surgeries. 
Carrying out deformity correction surgery in adult males is yet another expertise. As an exceptional achievement, Dr. Kakran has successfully performed a grade III spondylolisthesis surgery on a 60-year-old female from Andhra Pradesh. Various independent posterior long segment fixations using MISS technique till D8 level, treating complex fractures of upper and lower limbs, primary joint replacement surgeries, and over 500 revision surgeries are his experiences. 
Dr. Rahul has the responsibility of managing OPD patients independently and their administrative procedures for admission, discharge, and insurance. He also manages polytrauma patients and treats complex intra-articular fractures in the emergency trauma unit.